Products
Granite Device's Servo Cards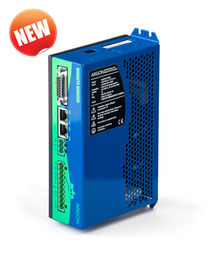 Ioni
VSD (Discontinued)


DashX is the authorized Canadian distributor of Granite Devices products - we ship worldwide!
Ioni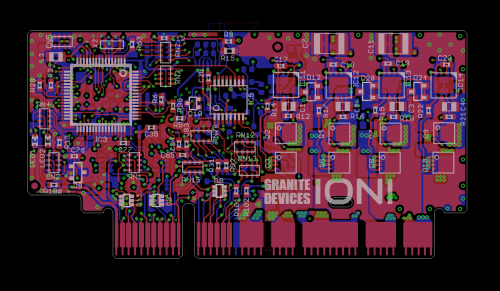 Preliminary Specifications.
5-55VDC (70VDC Effective)
15A (Adaptive current limiting)
Run directly via Mach4 software
Same or lower price than the VSD drives.
100VDC Model coming later in the year
VSD - Discontinued
The VSD drives have been replaced by the brand new IONI drives.
We will post details of the new drives as soon as they are avaliable.
Can be run in Dual DC mode allowing for 1 card to run 2 seperate servo motors!
Easy setup via GDtool software
SimpleMotion control library for PC, C/C++/C#, LabVIEW etc
Various low level command inputs (step/dir, PWM, quadrature, ±10V)
Easy connection to fieldbuses like EtherCAT or CANopen (more info)
Most AC/BLDC/DC and linear servo motors supported
Advanced sinusoidal field oriented control (FOC)
True current control protects equipment and boosts responsiveness
12-160 VDC supply voltage
10A cont. 20A peak output for AC/BLDC motors
14A cont. 40A peak output for brush DC motors
Reliability guaranteed by wide safety margins and quality components 

Electrical & mechanical braking of motor in faults & disable

Fully automatic internal homing controller
Optimized for CNC and machine automation

Robust 200V 60A MOSFET power stage

Panel installation, 19" rack compatible. See example.
Regenerative brake resistor output
Hard to kill: short circuit, over current, over temperature, I²t, over voltage and under voltage protections
Advanced positioning with acceleration limit and smoothing
Wide selection of control I/O's, see Connectivity.
The only difference between the VSD-XE and the VSD-E is the heatsink, and warranty. They are the same hardware. The lower continuous power rating is only due to the lack of heatsink.

Note: specifications are subject to change
Pricing - Servo Drive Cards
Picture
Part #
Warranty
Specifications

Price (USD)
GD-ARGON
If your Argon break within 24 months of use, we will repair or replace them free of charge (details).

Argon is the flag ship servo drive by Granite Devices.

Wide range of unique features consists:

Supports 97% of all industrial servo motors.
AC, BLDC, Linear and DC servo motors from 50 W to 1500 W
High dynamic range torque control
Streamlined setup process
Dual CPU architecture with dedicated open source ARM CPU for user functionality
No external power supply required
Runs directly from AC Mains (or DC)
And tons more, see Argon Wiki page

Don't forget to get a GD-SIMPMOT adapter to program the drive with.

$499
*Prices do not included 5% GST or shipping
Accessories
Picture
Part #
Details
Price (USD)
GD-SIMPMOT

USB to SimpleMotion V2 adapter.

One of these is required to configure Argon servo drive.

For full specifications, click here.

$20

DX-CAT5ESH

Shielded Cat-5e Network Cable

with metal plugs and foil shielding to prevent electrical interference.

Used to connect the SimpleMotion adapter to an Argon drive for programming.

GD-RESOLVE

Argon resolver adapter

Argon resolver adapter is a small sized device that adds resolver feedback device support to the Argon servo drive.

$13

GD-USB232

USB programing adapter for VSD cards

Required for configuring VSD drives via GDtool.

USB to RS-232

Only one cable is needed for all the cards.

$24

GD-VSDDIN

DIN Moutning Bracket

Allows mounting of 2 VSD cards on DIN rail.

$21

GD-VSDKIT

VSD-E/XE installation kit

DB15
DB25
DB Housings
DB25 to Motor PCB adaptor
100cm Optical Fiber for LEDs
50cm Ribbon Cable (16C)
50cm Ribbon Cable (10C)
16 Pin Ribbon Header x2
10 Pin Ribbon Header x2
Braking Resistor
Protection Diode

$23

DX-SMPS600

Power Supply - Stepper/Servo

Special regenerative design for use with Stepper and Servo systems
Works great with all Gecko drives! (@63V)
Works great with all Granite VSD drives (@126V)
High efficiency
Switch-mode power supply
Short-circuit protected
Selectable input voltage range
115/230VAC Input
Extremely small form factor
Low EMI
600 Watt
2x63 or 1x126 VDC - Dual Output
Multiple units can be placed in parallel for high current systems

$259
*Prices do not included 5% GST or shipping
Shipping - Worldwide
Country

Method
Tracking #

Estimated Delivery

(Business Days)

Cost

Canada

Xpress Post
Yes
2
$32
USA
Parcel Air
No
6-10
$32
International
Parcel Air
No
6-10
$32
-
UPS
Yes
RUSH
Quote
*Shipping may be adjusted for larger orders if the automatic shipping calculation is incorrect.
*Postal insurance must be included. We are not responsible for lost/damaged shipments.
If you prefer not to use our automatic shopping cart, you can place your order via email.